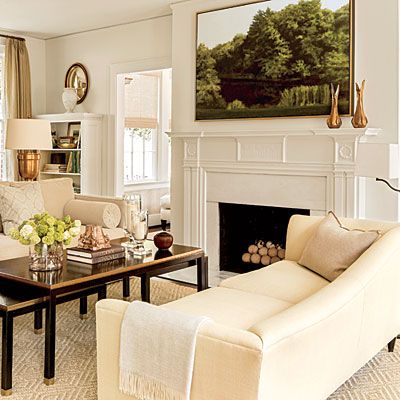 I am a big believer in home staging.. There is no better way to present a property for sale. Buyers look at photographs online before they even go out to visit homes. If they don't like what they see, they may not look at your property. There is much evidence that a properly staged home can sell for more money and in a shorter period.
It's relatively easy to find advice on how to stage a home, but sometimes the most effectively staged homes are founded on the things you didn't do. Remember, it's just as important to appeal to prospective buyers, as it is not to scare them away. The trick is to eliminate the mistakes so that the highlights shine even brighter.
There is a right and a wrong way to stage a home. Instead of focusing on what you should do, I want to shed some light on the things you should avoid doing.
1. Don't Over-Stage your Home
It's a gray area, but you need to be able to differentiate between a living space that is staged well and one that simply has too much going on. Err on the side of too little. It's almost always better to have too little than too much. Items strategically placed create focus. You do not want to have toys, magazines, refrigerator magnets, or dirt clothes to distract from the magic.
Sellers must be careful when staging a home for sale, There are at least two crucial reasons for limiting the amount of staging you do: spatial awareness and visual representation.
For starters, staging a home is meant to enhance its features. Size of rooms should be accentuated. The more things you put in a room, the smaller it becomes. You are reducing the amount of usable square footage with everything you include. Please be mindful of how much you intend to stage.
Of particular importance, however, is the visual representation you are trying to establish. Stagers are advised to make prospective buyers feel at home. Provide them with a space they can picture themselves living in, but don't go as far as painting the whole picture.
Stage a room just enough for them to get an idea of what it would look like if they lived there. Provide the canvas, and let their imagination do the rest.
2. Don't confine furniture to wall space
Whether it's human intuition or pure instinct, far too many people feel obligated to relegate the backs of their furniture to open wall space. Resist the temptation of confining furniture to walls. Although some circumstances call for the strategic placement of items up against a wall, it is by no means required. I simply want you to rid yourself of the notion that furniture, and couches in particular, must go in a certain spot.
Instead, your main concern should focus on the most conventional setup your layout permits — without sacrificing aesthetics, of course. I recommend setting up rooms in a way that lend themselves to a conversational manner.
If a room layout can serve as a conversational piece, that's one thing, but if the layout is physically conducive to holding conversations, that's another.
Your buyers will surely appreciate your effort, even if they don't realize it at the moment. Do what you can to position furniture and decorations in a way that condones conversation; it tells people a respective area is great for hosting.
3. Don't neglect the little things
Again, staging a home is all about presenting prospective buyers with a blank canvas that they can work with. You don't want to show them too much, as to prevent them from envisioning their own family living there, but you do want to give them a catalyst to spark their imagination.
The little things do matter. It isn't enough to simply place a coffee table in the right spot; you must proceed to decorate the table.
If you haven't hired a professional stager, go out and purchase small items to complement each piece of furniture. Done correctly, the little additions can go a long way in distinguishing the home from the competition.
Feel free to place a couple of books on the end table or some flowers in the bathroom. There are a few items I highly recommend; they might not sound like much upfront, but I assure you that their presence goes a long way in fostering a welcoming atmosphere:
· Place fake fruit in a decorative bowl in the kitchen.
· Hang decorative hand towels in the kitchen.
· Strategically place kitchen utensils and cutting boards.
· Use potpourri in the bathroom.
· Try placing a rubber ducky on the edge of the bathtub (a little trick I like to use so buyers can envision raising children in the home).
· Stage a bar with glasses and shakers.
· Try baking cookies before showing a home (the smell will almost certainly stimulate nostalgic feelings).
Feel free to complement your furniture with the appropriate "trinkets." However, I advise you to keep it neutral. Remember — you want to appeal to the largest audience possible. Don't risk scaring away potential buyers with an ill-placed book that has controversial implications.
Be selective with what you choose to decorate with, and you will notice your staging efforts can go a long way in selling your home.
4. Don't stage every room
I recommend leaving some rooms untouched — clean, of course, but untouched. In fact, the only rooms you should stage are the foyer, kitchen, living room, any bathrooms and the master bedroom.
Don't bother staging guest rooms or offices, as it detracts from the blank canvas. Potential buyers need to be able to picture themselves living in the home. You can't expect them to do so if you have something occupying every nook and cranny of the interior. Leaving a room empty will help them envision their own belongings occupying the space. Their imagination might be your largest asset.
5. Don't Keep it Personal
The concept of staging a home is allowing buyers to visualize themselves living in the home. In order to do so, you must remove personal photos, award plaques, and other personal memorabilia. Give them free space to imagine themselves living there. Your goal is to establish a blank slate — something the buyers can mold into their own living space.
Proper staging a home can lead to a faster sale and a bigger sale price.
One message I always tell me sellers, is to go out the front door, open it again and walk in with the eyes of a stranger. You will be amazed at what you see. We get used to our way of living and don't always see the rooms as others do. Make it fun and start packing the items you do not need. After all, you are planning to move, aren't you? Just start early!
If you are thinking about selling your home, please contact me. I can walk you through the staging of the home and help eliminate some expense.