RESTON, VA — A major access pathway near the Hunter Woods Village Center will be shut down for nearly two years to make way for construction of a senior living Community.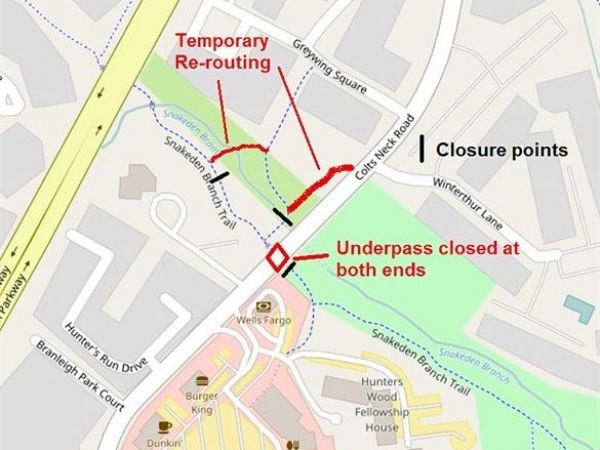 Construction activity will begin in the next week or two on the Hunter Woods at Trails Edge Senior Living Community at 2222 Colts Neck Road, the Reston Association said in a recent statement.
The construction will "require the closure and re-routing of a major access pathway that runs east-west on the site within the next week or two," the statement reads. The construction will also necessitate the closure of the underpass that goes under Colts Neck Road and behind the Wells Fargo Bank.
"Reston Association, which has an easement for the operation and maintenance of this pathway, is working with Atlantic Realty Company (ARC), the project developer, on a temporary re-routing of the foot traffic, which would include a new pedestrian bridge over the creek (Snakeden Branch) adjacent to the property," the statement notes. "The re-routing will provide access to the sidewalk along Colts Neck Road. Pathways to the underpass could remain in place for nearly two years, when construction is expected to be complete. A chain-link fence will surround the construction site for safety, and signs will be posted along the pathways."
The re-routed trail will be composed of wood chips and will not be lit, so it may not be suitable for wheeled vehicles like bicycles or strollers.
Pedestrians trying to access the Hunter Woods Village Center on foot can use the sidewalk on the west side of Reston Parkway and cross at the intersection of Glade Drive or South Lakes Drive.
Reported by Vienna Patch